BSBS Internship Placements
2019 BSBS Internship Placements
One of the strongest platforms @ BSBS that serves dual purposes-
developing Professional Skills & Attitude, and
testing the acquired Academic Excellence
is the BSBS Internship Activity.
It is intended at taking you closer to the world of Business by placing you with Corporate Mentors for a period of 16-20 weeks.
There are two Internships at BSBS:
first Internship
The first Internship happens between the second and the third semesters.
This is the first full-time exposure to you into the practical work environment.
You get to be a mini-employee of the organization from where you are interning, with business functional roles and responsibilities assigned to you just as any permanent employee of the Organization.
Your performance would be closely monitored by BSBS on a weekly basis.
You get to learn the nuances of business management functions in reality.
You experience the corporate/ career life; your career interests, passion, commitment, attitude, skills and business acumen- all are put to test!
SecondInternship
The second Internship happens between the third and the fourth semesters.
This is a conscious exposure of the students to the potential future employers.
This is aimed at exposing you to the potential employers and vice-versa.
While practicing with the corporate executives, you get an opportunity to exhibit your best abilities apart from your learning.
The second Internship is aimed at obtaining 'pre-placement' offers.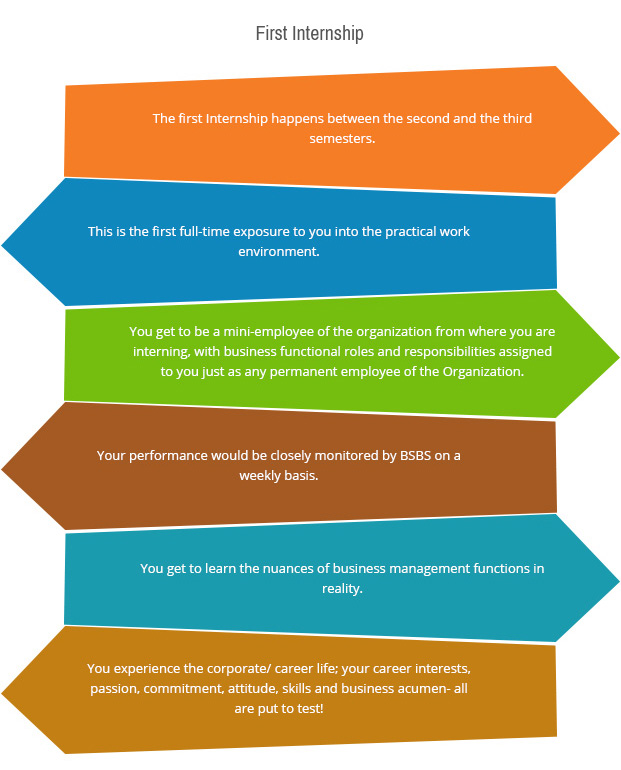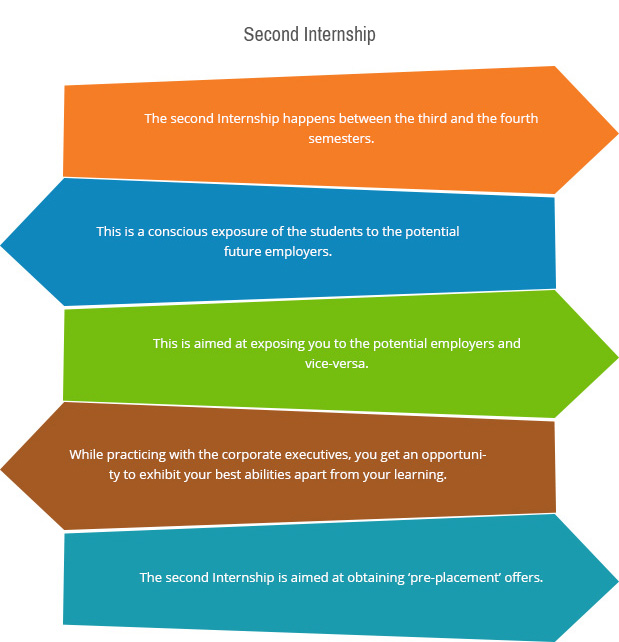 As in 'spirit & practice', BSBS Internship Activities are undoubtedly the launching pads for
Final Placements (BSBS Campus Placements)!
Close to 65% of the BSBS Campus Offers that have come through 'Internship Performance' stands as a testimony to the significance attached to the Internships at BSBS.
Hence, BSBS Internship Placements is a 100% Campus Support Activity- which means- all the Internship Placements are thoroughly mapped, planned and consciously & objectively sourced and serviced by BSBS in the direction of honing your business acumen.